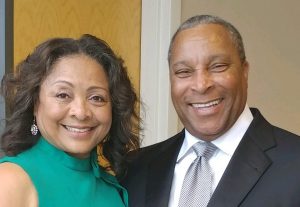 Dayle and Denise Taylor are the founders of D & D Emerge USA. Together, their experience in community service comprises a unique blend of management skills, teaching/facilitating, mentoring, personal development, strategic planning, and writing.
Denise is a writer and the author of the programs offered through D & D Emerge USA. Additionally, she is the facilitator of each of the programs and possesses the experience of more than 30 years working with communities in several North Carolina counties such as Alexander, Catawba, Gaston, and Lincoln. She has worked and volunteered in schools, churches, and county agencies such as the Christian Women's Job Corps of Gaston County, Greater Hickory Cooperative Christian Ministry, and Hickory's Women's Resource Center. In schools, Denise is certified to facilitate eight state-based curriculums for elementary to high school levels.
Dayle is a church minister in Catawba County and has worked with the most prominent electrical utility in North and South Carolina, spanning nearly 41-years. Dayle's leadership roles in the church and the power utility industry has enabled him effective in oversight assessments and monitoring, personnel / program management, and training.  
Our goal is helping people navigate through various issues to resolve them and find the freedom to live out their God given purpose. We believe we can all triumph over any conflict given the tools to conquer them."
For more information, please contact us at dtaylor2emerge@gmail.com
Pieces of Me, A Perfect Fit program for everyone
Pieces of Me, A Perfect Fit is a seven (7) week motivational and conflict resolution series that is dedicated and detailed to the individual as well as group participants.  It speaks to the transition from life's struggles and difficulties to change that is reforming and transformational.  The series does not only address and seek to understand various issues that we all face but also help one navigate through them for resolve, inspiring wholeness in all who seek it.
Friends for Life program for youth
The 21-day hands-on program is to balance power between bullies and victims by pairing them together for activities that will hopefully help them understand different cultures, strengths, weakness, and abilities of another, while instilling honor and respect.
By redirecting adverse and aggressive behaviors, this may lead to transformation in one's perspective toward another, therefore encouraging and promoting acceptance between students with differing cultures, circumstances, and abilities.    
Alere Curriculum for Women
Alere is Latin for – to feed, to support, to cherish, to educate, to nurture, to nourish.
Alere is a strategizing program for women of all nationalities, race, socioeconomic, cultural background, abilities, and disabilities.  This program discusses various situations in which women often find themselves needing redirection. 
Like the Pieces of Me, A Perfect Fit program, Alere for Women consists of seven ninety (90) minutes workshops held once a week for seven (7) consecutive weeks.  All topics are appropriate for diversity of women, where the participant learn how certain events have played roles in their struggle.  By identifying and resolving debilitating experiences, the road to a greater life becomes possible. Also, by identifying the one experience that makes for success, sharing will be encouraged.   
In each session, there are activities to assist each participate in setting guidelines for healthy beliefs and clear standards in their lives.  Alere, Curriculum for Women is the next step to maturing into self-confidence.  Alere welcomes every woman participate to their transformation!